Inflatable Double Lane Slide – FOR SALE ONLY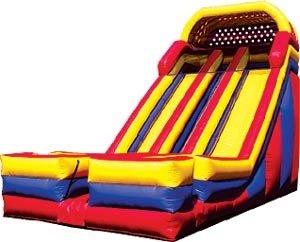 Standing 25 feet tall competing with your roof line, this giant slide requires a hefty amount of room in your yard with a foot print of about 25 x 25.
This Giant Slide is For SALE! It has been a great item to have in our inventory for the past few years, but its time to retire has come.
Repairs needed include:
Restitching the 2 seams at the landing area, approx 5′ long each.
Stitching is best when performed from the inside of the unit using a good machine and heavy stitch.
Slide surface needs to be replaced. This is slick PVC coated vinyl material which is affixed to unit with Velcro along all edges from the top landing to the bottom of the slides.
Ladder could use some attention as well.
A few joints are leaking and could use a good sealing, but not necessary.
SALE PRICE: $250 OBO, blowers and sand bags are not included.
Only serious inquiries please, we will not setup to show you this unit unless you are prepared to help roll it back up and complete the purchase. Weight of unit is around 700 LBS.
We had intended to convert this to a water slide, by extending the landing area out another 10 feet, and putting Velcro higher up the walls and replacing the dry slide surface with a wet slide surface. This is a task we simply do not have time for. There are many Manufacturers that also handle these kind of modifications, Closest one we could find was in Texas. Or a good upholstery shop should be able to handle these repairs for a few hundred.