DUNK TANK RENTALS IN KANSAS CITY
ORDER ONLINE
Dunk Tank Rental
For a good way to cool off,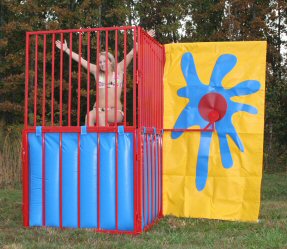 setup a Dunk Tank. People get to take turns attempting their hand at the skill of pitching. With any success, you're suspecting party with drop unexpectedly into the Giant tank of water! A Dunk Tank can be a lot of fun in the sun! A Dunk Tank with Giant Water Slide and Snow Cone Machine makes cooling off in the summer a breeze!
For more information please read this page! DUNK TANK RENTALS IN KANSAS CITY FOR 2014 With the overwhelming demand for Dunk Tank rentals in past few months we had no choice! The Dunk Tank is the newest addition to our inventory! Call now to make your reservation!
If you have called in the past and we said this was not available, we appologize!
IT IS NOW! CALL AGAIN FOR YOUR DUNK TANK RENTAL
We do our best to keep up with customer demand, but our budget and low prices only allow us to purchase one decent unit per year. Keeping our capitol expenses low, helps us keep your prices reasonable. We are very proud of keeping this tradition, hopefully in the future we will be able to grow faster while maintaining our low prices. Help us in supporting the Kansas City Party Planning department, if you think there is a unit we should have, tell us! I try to keep a count of what people are looking for, and the winner this year is the DUNK TANK. DON'T MISS OUT FOR YOUR PARTY! We only have one Dunk Tank for now! Based on the amount of requests for this unit, I am sure that the Dunk Tank will be very busy this year. Depending on how the season starts out, we may have to get another one just to keep up. Give us some notice if you are planning to have the Dunk Tank at your next party. The more notice we have, the better we can try to prepare for the high demand. Don't forget to rent a Castle Moon Bounce, or Giant Inflatable Water Slide! Bring on the cotton candy and snowcones! Your kiddos will never forget a good party!
PRICING AND AVAILABILITY