About Affordable Inflatables of Kansas City
Whether you are planning your little boy's birthday or a corporate event with hundreds of people, we can help coordinate your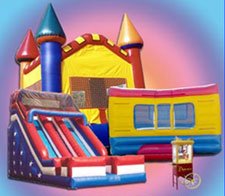 entertainment and party planning needs. Cotton Candy, Snow Cone and Moon Bounce rentals can make your little one the happiest in the neighborhood. Upon delivery you can expect to informed of the safety rules and procedures, how to operate equipment including a demonstration of how to make cotton candy and snow cones.
Our parties are sure to bring the neighbor kids around begging for a chance to play on the inflatable castles and slides. Yes, we even arrange evening parties for the grown-ups, including overnight rentals. Keep us in mind when considering your next birthday party or fundraiser event.
STRIVING TO BE THE NUMBER ONE PARTY RENTAL COMPANY IN KANSAS CITY
We have been continually growing since opening our doors in 2008. Every year we keep adding to our inventory, adding to our man power, and adding to the number of successful parties rocked out here in the Kansas City area.  2014 was a big year for us. We were able to add several units to our rental rotation including: 5in1 Combo, Giant Slide, Dunk Tank, Huge Obstacle as well as a few Bounce Houses and Sporty Games. We also, for the first time, were forced to retire two of our units: 24′ Obstacle and 25′ Double Lane Slide #1. Had the pleasure of setting up at festivals and school carnivals. Independence had a cool car show we got to be a part of.  Gladstone, Liberty, Shawnee, Lees Summit, Blue Springs, Grandview, and Leawood had schools that used us for some really cool Carnival fun. Some of them more than once.  Fox Hill managed to have us out twice this year, as well as Oak Hill Day School. Many churches had really cool events too, we had a lot of fun helping to make so many events a success.  I know of one company that used us for one fundraising event and managed to raise over $15,000, on our equipment alone, for Untied Way. Shout out to the team over at JOHN DEERE, Good job!  The fourth of July was absolutely crazy in 2014. Had a hard time finding guys to help, ended up working the whole day myself with only one of my other guys. That was a hard day of work. I quickly realized how many other Bounce House companies in Kansas City do not value their customer like I do. Dozens of times we had people call looking for a last minute rental, because the company they had hired, either did a no show-no call, or cancelled with only a couple hours notice. I have spent over 50 hours improving how my appointment organization and delivery schedule. Believe it or not, this is a very difficult business to run. Without an office manager I am the only one to answer the phone, set the appointments, schedule deliveries and pickups, print contracts, and maintain equipment. It's a, always on call, 80+ hr/wk, never miss a phone call or email, kind of a job. And I love it, but reluctantly have admitted to the fact that I need to hire someone to help me make all this magic happen. With the pending addition of 10 more units set to happen in May, there is no way I will be able to keep up like this on my own. So if you know anyone… Also we have been considering moving our rental station to a shop in the Gladstone area. Looking for some thing with garage space, electric & water, and room for a small office, under $1000/month. Seeking to move in around April or May. Toward the end of the season if you have a rental company and are looking to off-load your equipment, we might be interested in buying you out!  Good luck, may all your parties and events be a great success for 2015!
Kansas City Rentals, Cotton Candy Rentals, Snow Cone Rentals, Moon bounce house inflatables, inflatable castles, water slides, dry slides, double slides, inflatable slides, inflatable water slides, party rentals, party planning, birthday rentals, party supplies, party equipment, moon bounce rentals, obstacle course rental, inflatable obstacle course, bounce castle, party jumper, inflatable jumper, bounce house, moonwalk, moonwalk rentals, jumper rental, moonwalk jumper, bouncey house, bounce jumper rental, party bounce, party castle, party jumper rental.